Testimony of Bertholon SA
Testimony of Bertholon SA
RealityCad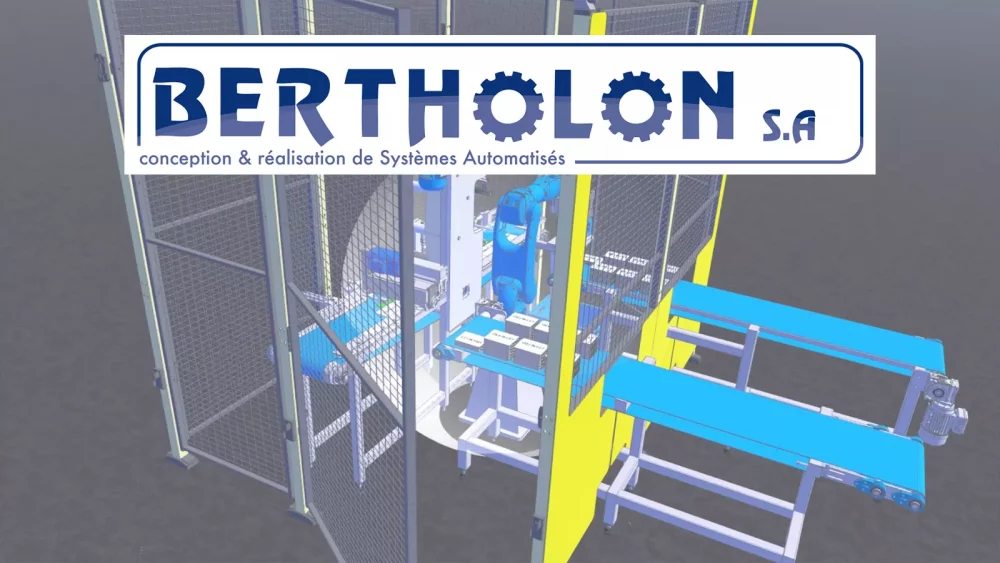 RealityCad has been supporting Bertholon SA in the implementation of RCad'Touch for several months now. Initially used to carry out immersive design reviews in the design office, our software quickly proved to be a major asset in the customer relationship (easier validation of preliminary projects, improved deadlines, reduction of errors, etc.).
Pierre Bertholon gives us his testimony:
Can you describe your company and its main activities?
BERTHOLON SA has been a family business for several generations, designing and manufacturing special machines, customised production lines and robotic cells for various sectors of activity such as the food industry, the medical sector and textiles.
The company was founded in 1957 by my grandfather, then taken over by my father and my uncle, and today it is my turn to continue to combine technical and human skills, mastery of quality and the most modern technologies to meet the most diverse requirements of our customers and to accompany them from start to finish in their industrialization project.
We are a small team, all with multidisciplinary and complementary skills that allow us to carry out all operations from design, manufacturing, assembly, painting, automation, tuning, delivery, commissioning on the customer's site to the complete training of operators.
Your design department uses Computer Aided Design (CAD) software on a daily basis. Why did you decide to introduce a new virtual reality software?
Our design office has been equipped with TopSolid CAD software since 1995.
This software allows us to draw and visualise projects in 3D and also to create 3D animations.
The animations are very practical as they allow us to see the machine "working" in preview and to validate various points with our customers such as cycle times or to check that there are no collisions in the various movements.
The 3D visualisation is therefore very effective for understanding a maximum number of elements and for allowing customers, some of whom are not necessarily familiar with reading 2D drawings, to get involved and participate in the monitoring and design reviews of their machine. They feel more involved and sometimes, depending on their feedback, allow us to reframe the project according to the many variables in the equation (needs / functionalities / ergonomics / safety / reliability / series changes / rates / ROI).
Nevertheless, in order to allow the end customer to immerse himself more fully in the project, to define his needs and to validate all the points before the launch of the production process, we decided to take the next step by investing in virtual reality software.
What motivated you to choose RCad'Touch in particular?
Basically, we wanted a virtual reality solution to do design reviews and to be able to validate our studies. Today there are many solutions that allow you to visualise and work on projects in virtual reality. However, the majority of the solutions proposed are what I call "one shot".
The principle is often the same: the service provider takes our CAD file, works on it to adapt it and transform it so that it can be read with his virtual reality software. We plan a date with our client and the service provider accompanies us for one or two days of design review.
The disadvantage of this process is the total lack of autonomy. We are used to controlling the entire project (design, manufacturing, commissioning, etc.) within the schedule we have set and within a well-defined budget.
From a "design planning" point of view, it is already not easy to reduce study times to a minimum. It was then difficult to envisage stopping the study, spending time planning a design review through a service provider, not to mention the cost linked to this service. In addition, this solution does not allow for the possibility of making changes directly, which is the basis of the design review with the client.
For the choice of the VR software, we did not want a simple virtual reality software that only represents empty surfaces or volumes and that we cannot do anything with it except "walk" in an environment in which we would not have the hand. We wanted this software to have features such as changing the positioning of elements, having exploded views, hiding certain elements or making others appear and even moving them.
The possibility and ease of performing these tasks with RCad'Touch made our choice a good one.
Importing a file from our CAD software into RCad'Touch is also a breeze. I think this was the most important aspect. You simply extract a step file from TopSolid, import it into RCad'Touch and it takes care of the rest; within minutes you are immersed in your creation. RCad'Touch retrieves all the CAD data, the project tree and allows you to view and walk through your project instantly. It's very intuitive and fast.
What were the reactions of the various stakeholders (members of the EB, clients, prospects, etc.) to the use of this new tool?
Some members of the design team were rather perplexed by the benefits of this software and saw it as more of a gadget. They said that it was not necessarily necessary for them; they had enough experience in 2D and 3D reading directly from TopSolid to see the anomalies (positions, heights, collisions, access points respecting safety standards, water retention points for food, etc.)
By visualising our company's current projects in VR, they immediately realised that 2D and 3D vision did not allow them to see as many points as VR. This allowed them to perfect the design of the machine as early as possible before manufacturing.
Would you say that the introduction of RCad'Touch is a success? How do you measure it?
We have only been using RCad'Touch for a few months, but it has quickly become a must for each of our projects. Its ease of use allows us to make regular stop points in the studies to carry out design reviews. This allows us to move forward more efficiently and serenely, with the virtual certainty of not having to go back, of not forgetting anything and above all of not having any "surprises" or having to make "alterations" when the machine is actually manufactured.
In terms of safety, it is undeniable that it is becoming very difficult to overlook certain dangerous points on the production lines from the design phase.
Commercially, this has brought a lot of satisfaction to our customers and prospects. They want to repeat the experience with us on new projects compared to our colleagues.
This has enabled our customers to project themselves more into the arrival of their new production means and to involve more personnel (operators, maintenance team, cleaning, HR, R&D) from the design stage.
Can you imagine other future uses?
We are also thinking of using the software to carry out more advanced pre-inspection of conformity with inspection offices such as APAVE or BUREAU VERITAS.
We would like RCad'Touch to integrate machine animation, in order to further enhance the immersion of our projects.
Would you recommend RealityCad? Why would you do that?
We would recommend RealityCad without hesitation because the product is very successful, simple, intuitive and scalable. The team behind this software actively listens to its customers, takes all their suggestions, prioritizes them and implements them. I would particularly like to thank Olivier Leboissetier for his professionalism and great responsiveness.
Pierre Bertholon, Managing Director of BERTHOLON SA
You wish to contact the company Bertholon SA:

910 route de SARCEY
ZA La Poste – R.N.7
69490 SAINT ROMAIN DE POPEY
FRANCE
---